Narnia Pet Behavior & Training has grown during the past 20 years to become nationally recognized and respected in the dog-training industry. Along the way, Narnia has helped tens of thousands of area pets (and their humans) live in harmony.
Most group training consists of six 55-minute classes. A new client orientation is included for anyone starting Puppy Kindergarten and Beginning Obedience.
Class content, leadership and training equipment are all discussed at orientation. We also touch on common issues such as mouthiness, housebreaking, crate training and jumping. Come prepared with questions.
Attending orientation is important so that you have a good foundation for your first class. If you are not able to attend orientation, you must make arrangements to pick up your orientation packet or have it emailed to you before you start your first class. All orientations are held in our Plainfield location.
Adopted dogs receive a 10% discount. (Proof of adoption required at the time of registration.) To see our current class schedule click here. If you're ready to sign-up for class you can do so online here, or call Narnia Pet Behavior & Training at (630) 904-0895 and we'll be happy to register you over the phone.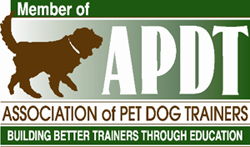 Dog Training Classes
Classes will be held at Lucky Dog Daycare & Boarding on Tuesday, Wednesday and Thursday evenings.
Puppy Kindergarten
For puppies 16 weeks of age and younger
Off-leash socialization
Learn basic commands including sit, down, come, stay, off, walking on a leash
Also includes our nationally known vet friendly and reliable recall
Instructors will address common problems such as house breaking, jumping, nipping, and chewing
Puppy Continuing
For graduates of Puppy Kindergarten
Build confidence and improve basic skills
Learn leadership skills
Instructors will address normal dog development including adolescence and lack of self control
Beginning Obedience

For dogs 18 weeks and older
Learn basic commands including sit, down, stand, off, come, stay, walking on a leash.
Also includes our nationally known vet friendly and reliable recall
Learn leadership skills
Manners & Self Control
For dogs that have completed Beginning Obedience, Puppy Continuing or Adolescent Training & Manners
Refine obedience skills
Introduce door manners
Work getting attention and working with distractions
Learn to phase out treats
Teach your dog to be calm & focus
Please call Narnia for start dates and more information at
(630) 904-0895. Classes are ongoing.